FORSYTH PLASTIC SURGERY EDUCATION CENTER
If you've been thinking about breast augmentation, come in for a consultation at Forsyth Plastic Surgery. We have five board-certified plastic surgeons who can answer your questions, talk about financing and discuss what to expect before, during and after your surgery.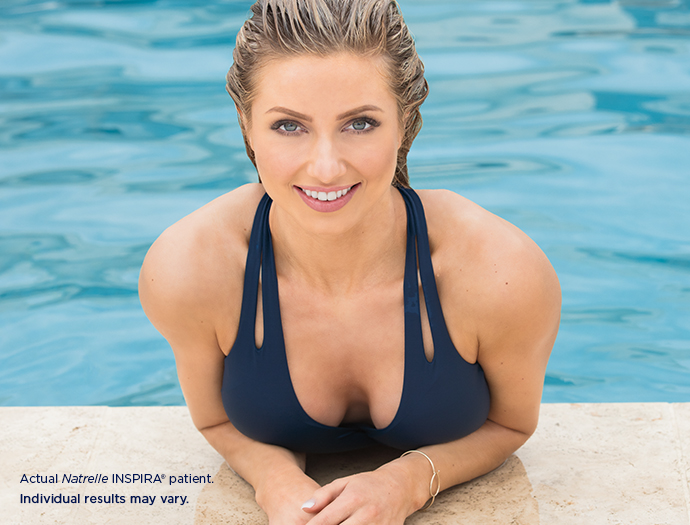 Forsyth Plastic Surgery is proud to offer the leading implants from Natrelle, Mentor and Sientra. Your doctor can help you choose the implant that will help you achieve your goals.
The best way to get started? Come in for a consultation. Our consults are $100 and you can save $25 up front by signing up for our email (the link is on the homepage of our website.)
We find that many women will wait for YEARS before simply coming in to ask questions. Don't wait. We'd love to see you!
Questions you may have about breast augmentation
What is breast augmentation?
Many women choose to enhance their overall figure by enlarging their breasts. During this procedure, which lasts between one and two hours, implants are inserted beneath the breasts to create a larger bust and more pleasing shape. The implants are filled with either saline (salt water) or more commonly silicone, and the recovery period is typically one week.
A thorough discussion between you and your surgeon before surgery will allow you to choose the best type of implant for your shape, the method of placement, and the final postoperative size.
What to expect
Every cosmetic procedure begins with a thorough consultation. You and your surgeon will develop a plan including the type of implant that will work best for you, whether the implants should be placed above or below the muscles of the chest, and what to expect as far as incision size and placement in the breast fold or around the nipple.
If you prefer, you may also learn more about additional procedures that may be combined to give you more comprehensive results, like including a breast lift in conjunction with your augmentation or CoolSculpting® or liposuction of your mid-body area to accentuate your augmentation results.
Recovery
You can usually go home the same day. You can expect to feel sore and tired at first but most people start to feel much better even after just a few days. Although your breasts will appear larger and higher immediately after surgery, some of this is due to postoperative swelling. We will provide you with a supportive bra that will worn for several weeks to aid in comfort, minimize swelling, and promote healing. The final results take 6 weeks to 3 months as your implants settle and your muscles relax. No heavy lifting more than 10 lbs for about 2 weeks, and no heavy upper arm exercises for 6-8 weeks. Scars will eventually fade over the next few months to a fine white scar. Many of our patients find that they can finally fill out those swimsuits, bras and tops that they have always wanted. You should be back to normal by 4-6 weeks.
Call 336-765-8620 to request a consultation today and receive a personalized plan with one of our surgeons.