5 BOARD-CERTIFIED PLASTIC SURGEONS
At FPS, you'll find five outstanding, board-certified surgeons who specialize in cosmetic and reconstructive surgery. Drs. Fagg, Schneider, Kingman, Lawson and Branch are dedicated to setting the standard for excellence in plastic surgery. The best place to start is with a consultation. Please call our office to set up an appointment today.
THE VISTA, OUR STATE-OF-THE-ART AESTHETIC CENTER, IS NOW OPEN
The VISTA, our brand new aesthetic center, offers the latest treatments, products and procedures for body contouring and skin rejuvenation backed by our five board-certified plastic surgeons. This multimillion-dollar facility is an extension to our original building on Maplewood Avenue. Visit our sister website thevistanc.com for more information. To book an appointment, call (336) 765-8620.
A NATIONALLY RECOGNIZED IN-HOUSE SURGERY CENTER
The Plastic Surgery Center of North Carolina, housed within Forsyth Plastic Surgery, is a nationally accredited, full-service in-house surgery center. This space allows us to offer very personalized care for our patients in a safe and private environment. We have a dedicated team of specialized nurses who assist our physicians in the center.
CUTTING-EDGE TECHNOLOGY
Forsyth Plastic Surgery uses the most advanced technology to treat our patients. This fall we will be one of the first in the nation to offer CoolTone. Using magnetic muscle stimulation, CoolTone can strengthen and tone the muscles in the abdomen, thighs and buttocks in just a few sessions.
MEET OUR FIVE BOARD-CERTIFIED
Plastic Surgeons
Forsyth Plastic Surgery is the home of five board-certified plastic surgeons: Drs. Fagg, Schneider, Kingman, Lawson and Branch. Our office is located in Winston-Salem, North Carolina and we're proud to have been named the #1 Cosmetic/Plastic Surgery Center for the last 13 years in the Readers' Choice Awards (thank you!).  If you're ready to get started on your body or beauty goals, we're here to help.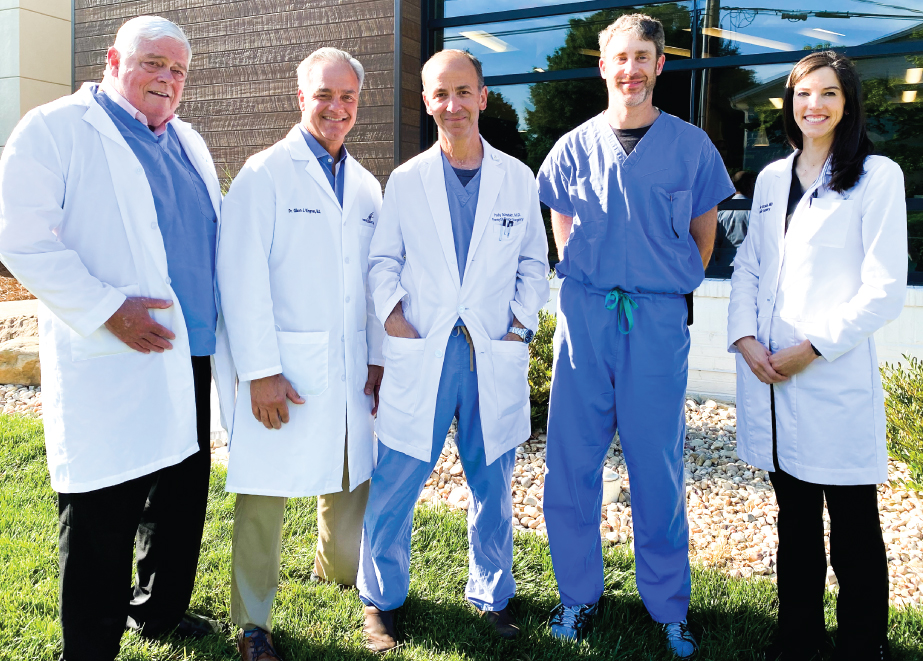 Pictured above:
Dr. John A. Fagg, Dr. Gil Kingman, Dr. Andy Schneider, Dr. George Lawson III and Dr. Leslie Branch
FORSYTH PLASTIC SURGERY
WHAT AREAS WOULD YOU LIKE TO IMPROVE?
If you're considering a procedure with a plastic surgeon to help you achieve your body goals, you're not alone. Plastic surgeons all over the country (including FPS) are seeing an increase in the demand for plastic surgery services post-quarantine. Now is the perfect time to book a consultation and let us answer your questions.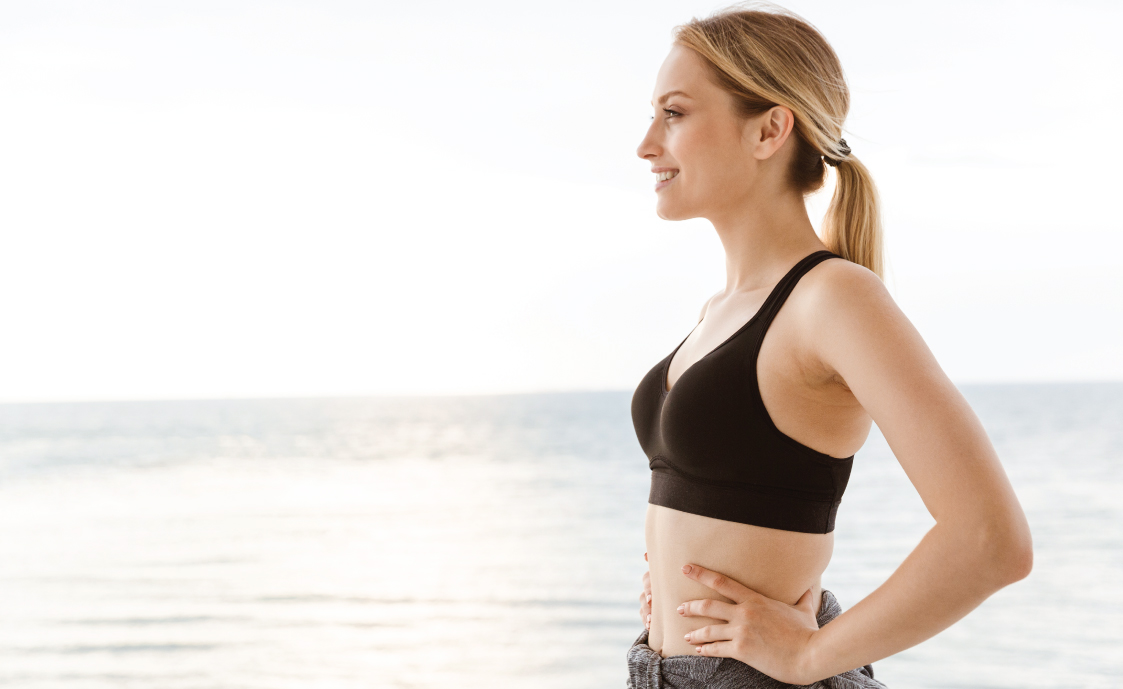 BREASTS
Including:
Breast reductions
Breast augmentation
Breast reconstruction
Breast lift
Implant exchange
Breast lift with implants
Top surgery
Gynecomastia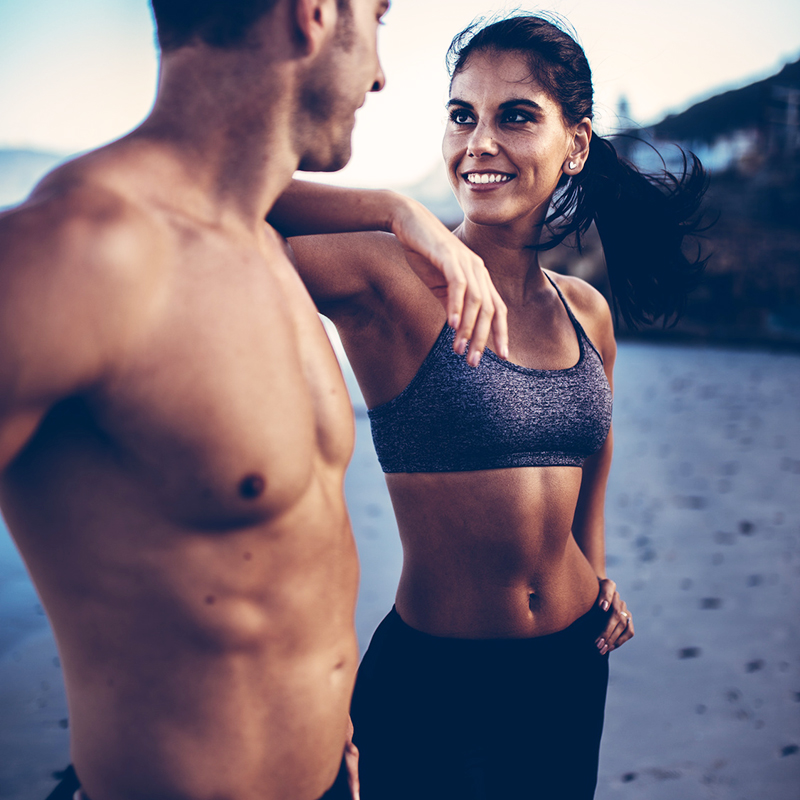 BODY
Including:
Tummy tuck
Liposuction
"Mommy make-over"
Body contouring
Labiaplasty
Brachioplasty
CoolSculpting and CoolTone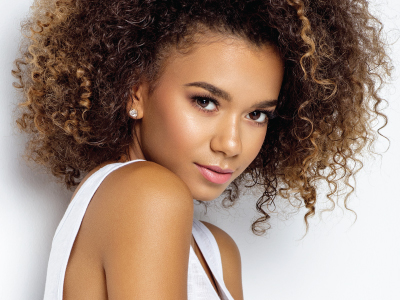 FACE, NECK AND EYE
Including:
Botox
Browlift
Ear reshaping
Eyelift
Facelift
Gel filler for the cheek area
Gel filler for the chin area
Laser Services
Lip plump
Medical-grade skincare
Facials, peels and DiamondGlow treatments
Necklift
Nose reshaping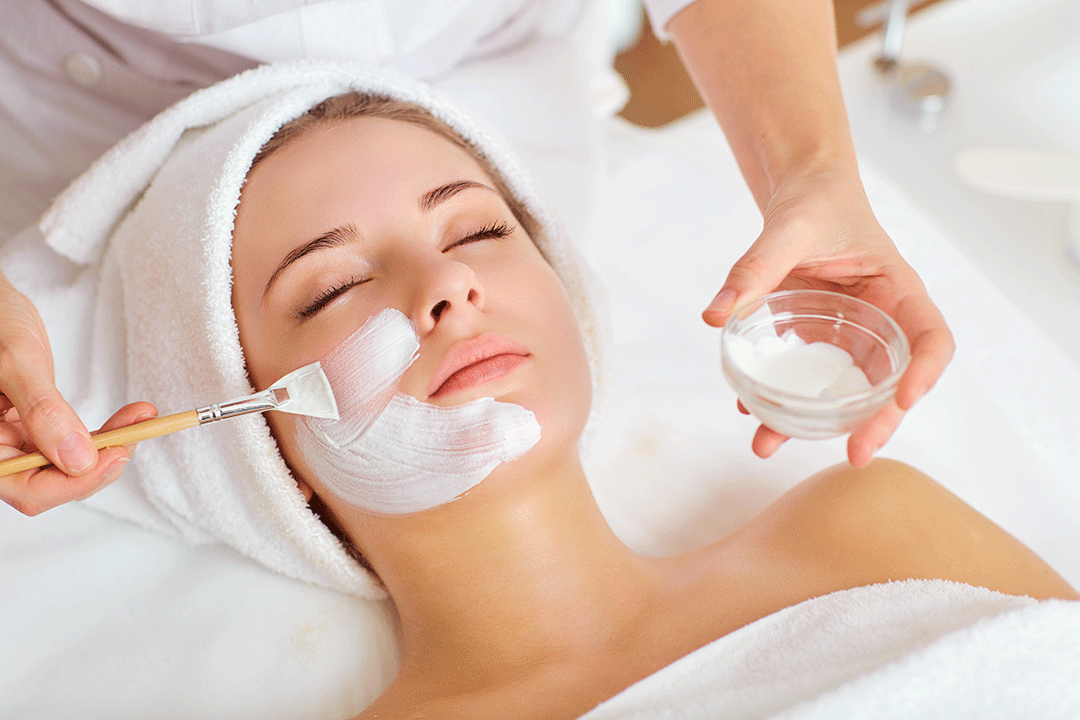 NON-SURGICAL TREATMENTS
Including
CoolSculpting
CoolTone
Facials and Peels
Injectables
Microblading
Microneedling
miraDry
Skincare
Tattoo Removal
FORSYTH PLASTIC SURGERY
OUR FACILITY
Forsyth Plastic Surgery is located at 2901 Maplewood Avenue in Winston-Salem, North Carolina. We welcome walk-ins to purchase skincare products.
Patients arriving for surgical consults should use the Forsyth Plastic Surgery entrance at the the top of the parking lot.
Patients arriving for skin care, non-surgical cosmetic treatments and injections like Botox or Juvéderm should use entrance to The VISTA in the lower parking lot.
Patients arriving for outpatient surgery at The Plastic Surgery Center of North Carolina should use the entrance in the center of the backside of our building.
We look forward to seeing you!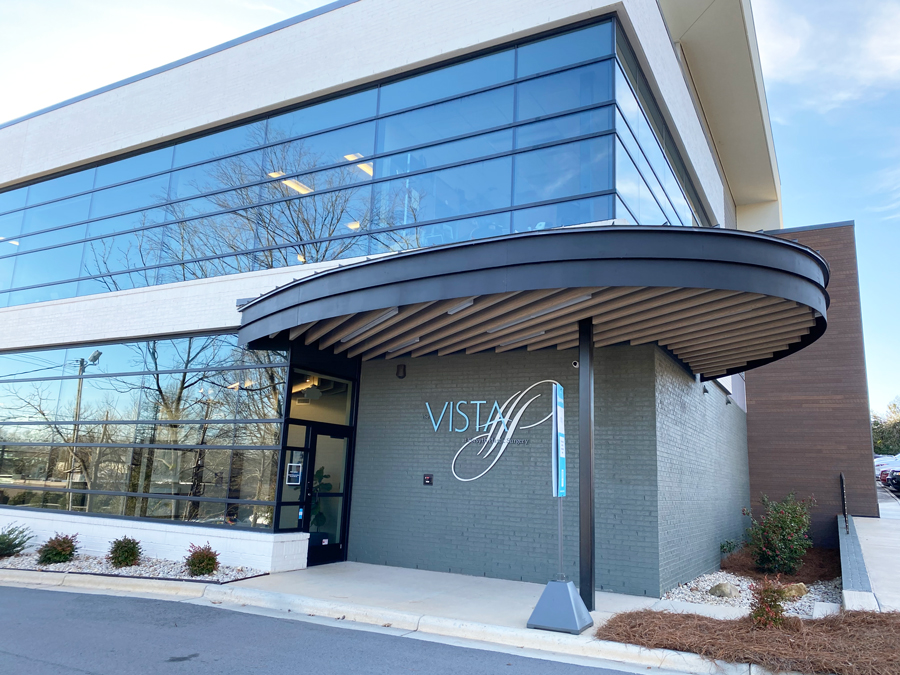 the vista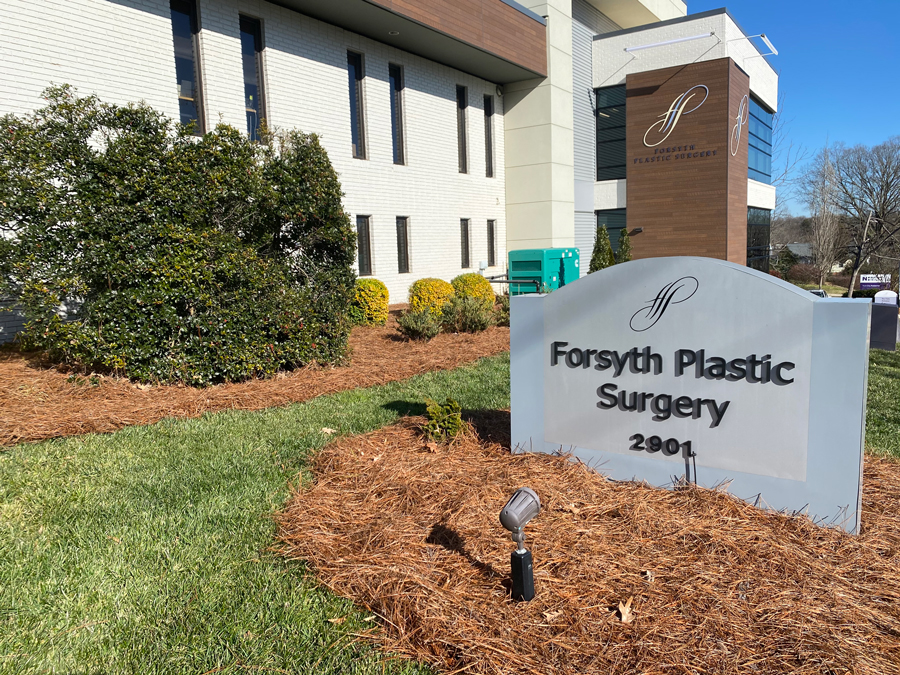 FORSYTH PLASTIC SURGERY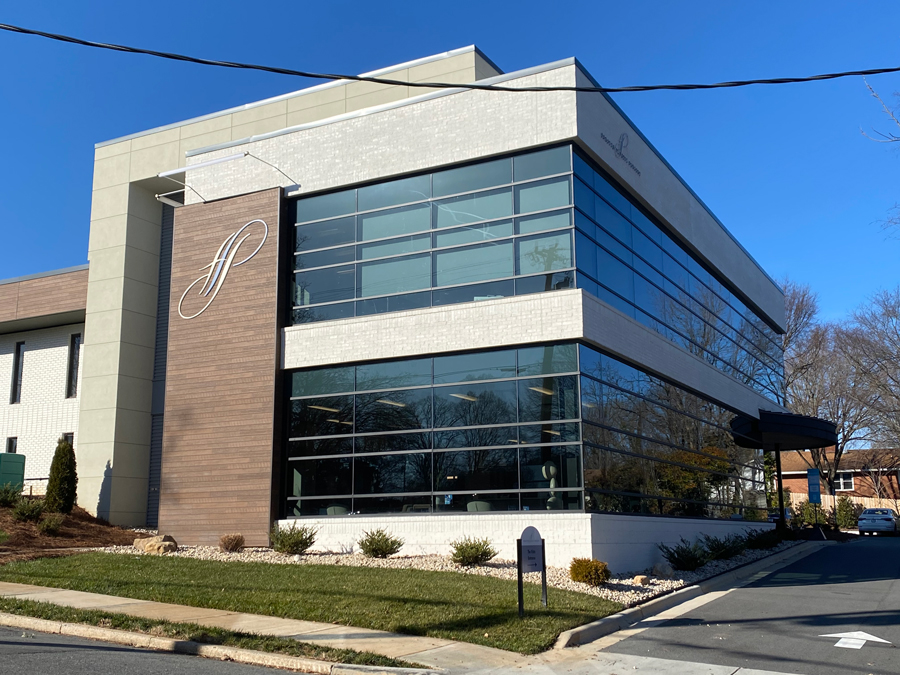 FORSYTH PLASTIC SURGERY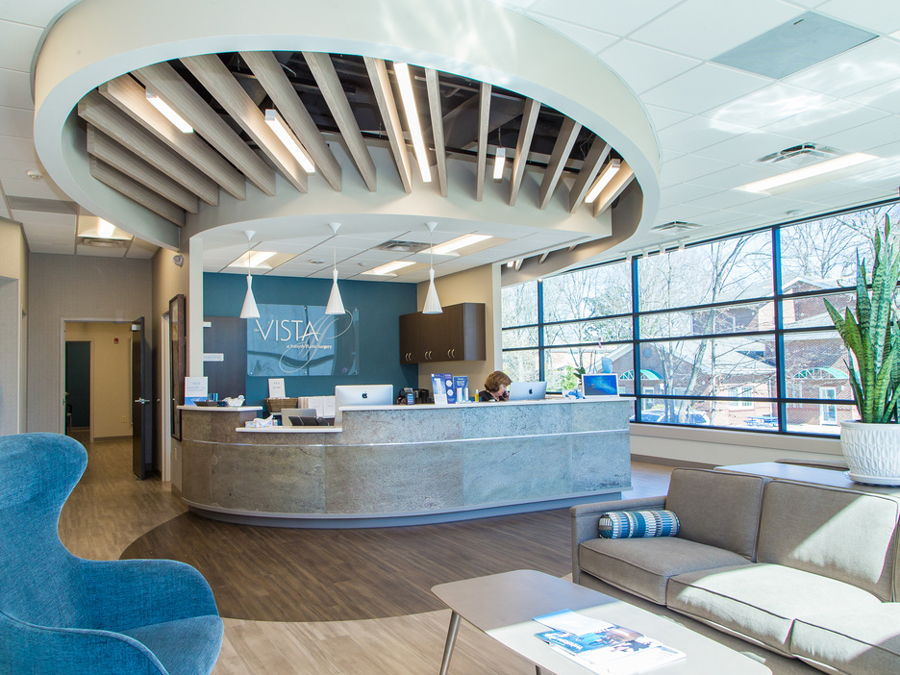 THE VISTA
Join our Email List and Save $25 on Your Next Consultation With Us
Would you like to receive email updates from Forsyth Plastic Surgery? Each week we publish news about special offers, upcoming events and more. Click the button below to sign up. Thanks!