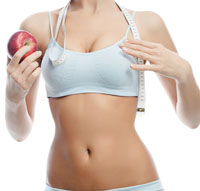 Many women choose to enhance their overall figure by enlarging their breasts. During this procedure, which lasts between one and two hours, implants are inserted beneath the breasts to create a larger bust and more pleasing shape. The implants are filled with either saline (salt water) or silicone, and the recovery period is typically one week.
A thorough discussion between you and your surgeon before surgery will allow you to choose the best type of implant for your shape, the method of placement, and the final postoperative size.
NOTE: The FDA in February approved a new kind of breast implant called the Natrelle Style 410. This is a shaped, highly cohesive gel implant that allows women to achieve significant upper pole fullness and a natural result. While this implant may not be right for every patient, ask your surgeon if you would benefit from the Style 410.