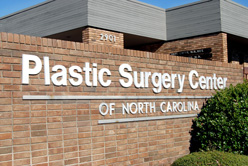 Our office, The Plastic Surgery Center of North Carolina, is located at 2901 Maplewood Avenue in Winston-Salem, North Carolina. Our receptionists will be glad to provide directions and assist you with scheduling a consultation.
The reception area, doctors' offices and consultation rooms are located on the first floor of our building. A library of videos is available to help explain many of the procedures we offer.
The ground floor of our building is a state-licensed outpatient surgery facility with three certified operating rooms and a recovery area. Appropriate monitoring equipment is in place to make any surgical procedure, whether large or small, as safe as possible. A team of nurses will meet you upon arrival and make your stay pleasant. Most patients can go home after a brief stay in the recovery room. For those who want to stay overnight, transportation can be arranged to a private room at Medical Park Hospital, just minutes away.
AND we also see patients on Tuesday afternoons at our new location in Kernersville. The address is Suite 202, 1710 Kernersville Medical Parkway, and it is adjacent to the new Kernersville Medical Center. To schedule an appointment there, please call our main line: 336-765-8620.
Directions
Our office at 2901 Maplewood Avenue is open from 8:30am to 5:00pm weekdays. An answering service is provided 24 hours per day, and one of our surgeons is always on call to handle emergencies and answer questions.
• To get to our office from I-40 Business: take the Forsyth Tech/Silas Creek Parkway Exit. Turn left onto Hawthorne Road. Turn left onto Maplewood Avenue.
• To get to our office from I-40 Bypass: take the Hanes Mall Boulevard exit. Turn left onto Silas Creek Parkway. Turn right onto Hawthorne Road. Turn left onto Maplewood Avenue.